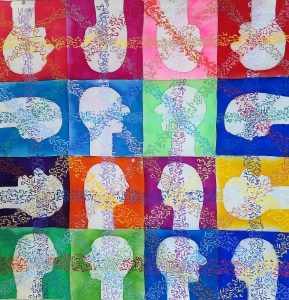 Messages from another World – Silkcolor©  technique of transparent pigments, 110 x 110 cm
The silkcolor paintings of Will Kellermann have their own identity in which a sparkling play of colors and forms are created in a professional and spontaneous manner. One of her important themes is the heritage and freedom of women. Her paintings are often touching at the brim of Symbolism telling tales of the earth, people, and the mind.
In the painting Messages from another world Kellermann stretched a canvas of jacquard woven silk on a wooden frame, examining the texture and feel of the silk, as if to engage into a relationship with the intrinsic power of the natural material. In this way to feel the mystique, seeing colours in bloom, glittering tenderly in the prismatic fibers of the silk.
Then she embarks with the Silkcolor© technique her own original process of painting layer upon layer. Will Kellermann cites; "With 'Messages' I started with opaque mother-of-pearl paint in at least thirty different colours. Thus creating bold lines speaking of different symbols that danced before my eyes. Symbols that symbolize music, children, animals, numbers, flowers and plants, birds, insects, people and angels. These signs unfolded as a language, similar to hieroglyphs from ancient Egypt. Double lines, horizontal, vertical and diagonal, filled with coloured symbols, emerged under my hand on my silk canvas. This language tells us how things can and should be done differently. The written characters seem to materialize on my canvas, as if from another world. They seem to whisper images out of nowhere, images of invisible beings from the four winds, whom we need to decipher the language and spread the words. I have shaped them in my painting as white, translucent heads, positioned in brightly coloured squares, creating a total impression of consciousness. The language continues throughout the painting, but is most visible in the transparent heads of the creatures. They are the men and women from far away, who support us, who can and want to give us hope, so that we as humanity on our planet earth can realize change and will learn to take better care of each other and our planet's survival.
The deep and rich colors are obtained by painting transparent colors layer upon layer, using specially developed techniques. Will Kellermann uses high-quality China silks as a canvas. Her flamboyant Silkcolors© are unique and show light and depth in a brilliant and magical way. Her paintings are held by collectors in Europe, the Middle East, and America and she won several prestigious prizes. The title of her book "The Romantic Adventurism of Will Kellermann"
De puurheid van zijde inspireert Will Kellermann tot uitingen van diepere gevoelens. Zij ontdekt zichzelf in de mystiek van de wereld, de mens en de geest. Haar unieke Silkcolors spreken van dromen, geheimen en onvermoede krachten in onze natuur. In de vele lagen verf herkennen we de lagen van de ziel, lichtend, kleurrijk, open en intiem. Zij zegt: "Zijde heeft een eigen wil, het levend materiaal fluistert mij beelden in die ik met de eigenschappen van het edele materiaal en speciale technieken tot unieke taferelen verwerk".
Om het schilderij Messages from another World te maken heb ik een stuk jacquard geweven zijde opgespannen op het houten raam. Ik span de zijde als canvas op, zodanig dat
het materiaal de tafel niet raakt. Ik kijk en voel en ga de relatie aan met de intrinsieke kracht van het natuurlijke materiaal. Ik voel de mystiek, zie de
kleuren opbloeien en het licht gloeien in de prismatische vezels. Dan ga ik met de door mijzelf ontwikkelde techniek aan de slag, laag over laag.
Bij 'Messages' begon ik, met opaak parelmoer verf in wel dertig verschillende kleuren, lijnen te maken van allerlei tekens, die voor mijn ogen dansten.
Tekens die symbool staan voor muziek, kinderen, dieren, cijfers, bloemen en planten, vogels, insecten, mensen en engelen. Deze tekens ontvouwden
zich als een taal, te vergelijken met hiërogliefen uit het oude Egypte. Dubbele lijnen, horizontaal, verticaal en diagonaal vol gekleurde symbolen, bracht ik aan op mijn zijden
canvas. Deze taal vertelt hoe het anders kan, moet. Het zijn tekens die vanuit een andere wereld lijken te komen. Vervolgens verschenen er fluisterende beelden vanuit het niets, van onzichtbare wezens uit de vier windsteken ,die de taal moesten ontcijferen en verbreiden. In mijn schilderij heb ik ze vorm gegeven in
witte, doorschijnende koppen in fel gekleurde vlakken, over het gehele beeld heen. De tekentaal loopt over het gehele schilderij, maar is het meest zichtbaar in de transparante koppen van
de wezens. Zij zijn de mannen en vrouwen van ver weg, die ons hoop kunnen en willen geven, waardoor wij mensen op deze aarde kunnen veranderen en zullen leren beter voor elkaar en onze planeet te zorgen. De flamboyante kunstwerken vertellen over gevoelens van bevrijding en magie. Licht en donker gaan meebewegen in de vormen en lijnen, de stralende kleuren creëren dieptewerking. Haar schilderijen raken aan het Symbolisme, vertellen een romantisch avontuur dat ons alledaags leven ontstijgt. Het werk hangt wereldwijd en won prestigieuze Awards. De titel van haar boek "Het Romantisch Avonturisme"