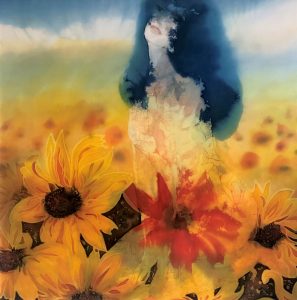 Silk paint on silk, 95 x 95 cm
The silkcolor paintings of Will Kellermann have their own identity in which a sparkling play of colors and forms are created in a professional and spontaneous manner. One of her important themes is the heritage and freedom of women. Her paintings are often touching at the brim of Symbolism telling tales of the earth, people, and the mind.  
 The deep and rich colors are obtained by painting transparent colors layer upon layer, using specially developed techniques. Will Kellermann uses high-quality China silks as a canvas. Her flamboyant Silkcolors© are unique and show light and depth in a brilliant and magical way. Her paintings are held by collectors in Europe, the Middle East, and America and she won several prestigious prizes. The title of her book "The Romantic Adventurism of Will Kellermann"
De puurheid van zijde inspireert Will Kellermann tot uitingen van diepere gevoelens. Zij ontdekt zichzelf in de mystiek van de wereld, de mens en de geest. Haar unieke Silkcolors spreken van dromen, geheimen en onvermoede krachten in onze natuur. In de vele lagen verf herkennen we de lagen van de ziel, lichtend, kleurrijk, open en intiem. Zij zegt: "Zijde heeft een eigen wil, het levend materiaal fluistert mij beelden in die ik met de eigenschappen van het edele materiaal en speciale technieken tot unieke taferelen verwerk".
De flamboyante kunstwerken vertellen over gevoelens van bevrijding en magie. Licht en donker gaan meebewegen in de vormen en lijnen, de stralende kleuren creëren dieptewerking. Haar schilderijen raken aan het Symbolisme, vertellen een romantisch avontuur dat ons alledaags leven ontstijgt. Het werk hangt wereldwijd en won prestigieuze Awards. De titel van haar boek "Het Romantisch Avonturisme"