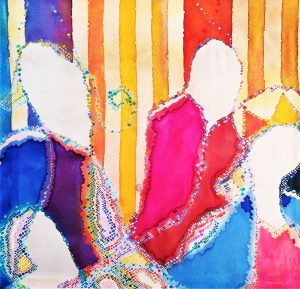 Transparent pigments Silkcolor © technique, 110 x 110 cm
The silkcolor paintings of Will Kellermann have their own identity in which a sparkling play of colors and forms are created in a professional and spontaneous manner. One of her important themes is the heritage and freedom of women. Her paintings are often touching at the brim of Symbolism telling tales of the earth, people, and the mind.
The painting Lines of Mankind -was created from lines that emerged from the jacquard silk on a stretcher frame in process of her unique Silk Color © technique. Kellermann built lines with small areas of color, strung together in chain to give the wavy lines along silk. They symbolize the playful, creative feelings in life. The straight lines, on the other hand, symbolize the unwritten laws, which man adheres to every day. These lines in small areas of color, in opaque mother-of-pearl paint born from my brush on the silk and formed people; a man, a woman, a son and daughter. Areas are made of color filled with small particles, a mosaic of experiences, disappointments and highlights in life accentuated transparent colors of liquid paint.
A family appeared, not from this earth but from far beyond. The faces are transparent, white and expressionless, as we have yet to get to know them. They tell stories in a symbolic way that a person thinks, feels and acts. The family as the important factor in life, where love within the family starts with attention and honesty. The family symbolizes trust and happiness, learning, giving and taking, taking each other into account with a show of respect to each other. Meaning to grow up in love and security. This is an important message, especially in our world of insecurity and consumption, the virtual challenges and hectic images are constantly thrown in our faces. Kellermann expresses in the composition the feeling of calm in the hustle and bustle of rapid changes.
The deep and rich colors are obtained by painting transparent colors layer upon layer, using specially developed techniques. Will Kellermann uses high-quality China silks as a canvas. Her flamboyant Silkcolors© are unique and show light and depth in a brilliant and magical way. Her paintings are held by collectors in Europe, the Middle East, and America and she won several prestigious prizes. The title of her book "The Romantic Adventurism of Will Kellermann"
De puurheid van zijde inspireert Will Kellermann tot uitingen van diepere gevoelens. Zij ontdekt zichzelf in de mystiek van de wereld, de mens en de geest. Haar unieke Silkcolors spreken van dromen, geheimen en onvermoede krachten in onze natuur. In de vele lagen verf herkennen we de lagen van de ziel, lichtend, kleurrijk, open en intiem. Zij zegt: "Zijde heeft een eigen wil, het levend materiaal fluistert mij beelden in die ik met de eigenschappen van het edele materiaal en speciale technieken tot unieke taferelen verwerk".
Het schilderij Lines of Mankind ontstond uit lijnen die opdoken vanuit de jacquard zijde op mijn spanraam. Ik bouwde lijnen met kleine kleurvlakjes, die ik aan elkaar regals een kostbare ketting van prachtige momenten. De golvende lijnen geven mee en trekken weer terug. Zij zijn symbool voor de speelse, creatieve gevoelens in het leven De strakke lijnen daarentegen symboliseren de ongeschreven wetten, waaraan de mens zich dient te houden, als deel van het dagelijks denken. Deze lijnen in kleine kleurvlakjes, in opaak parelmoerverf
geboren uit mijn penseel, liepen op de zijde omhoog en vormden mensen; een man, een vrouw, een zoon en dochter. Ook maakte ik kleurvlakken gevuld met kleine deeltjes, een mozaïek van ervaringen, teleurstellingen en hoogtepunten in het leven. Daarna ging ik schilderen met vloeibare verf in transparante kleuren. Er verscheen een familie, niet van deze aarde maar van ver daarbuiten. De gezichten zijn transparant, wit en uitdrukkingsloos, aangezien we hen nog moeten leren kennen. Zij vertellen op een symbolische wijze dat een mens denkt, voelt en doet.
Het gezin is een belangrijke factor in het leven, liefde binnen het gezin begint met aandacht en eerlijkheid.  Het gezin symboliseert vertrouwen en geluk, leren, geven en nemen, rekening met elkaar houden en respect voor elkaar tonen. Het betekent opgroeien in liefde en zekerheid. Dit is een belangrijke boodschap, zeker in deze wereld van moeten en willen, van virtuele uitdagingen en jachtige beelden die voortdurend op ons afkomen. Ik schilder het rustpunt in de hectiek van snelle veranderingen. De flamboyante kunstwerken vertellen over gevoelens van bevrijding en magie. Licht en donker gaan meebewegen in de vormen en lijnen, de stralende kleuren creëren dieptewerking. Haar schilderijen raken aan het Symbolisme, vertellen een romantisch avontuur dat ons alledaags leven ontstijgt. Het werk hangt wereldwijd en won prestigieuze Awards. De titel van haar boek "Het Romantisch Avonturisme"